High-speed beverage packaging lines are highly complex and expensive, often costing tens of millions of pounds. The most expensive and critical asset on the line is normally the rotary filler.
The core of the filler is the main ring, which picks up the bottles, cans or containers and rotates them firstly into the filling station and then through the closure mechanism – crown capper, screw top or can lid seamer, depending on the container type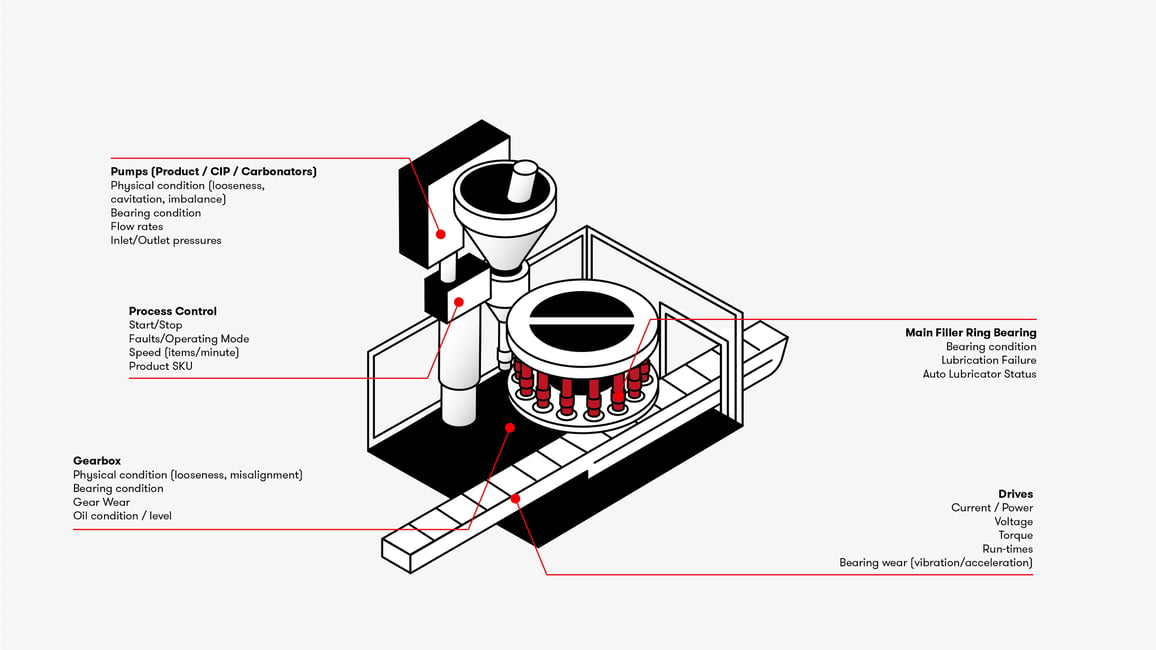 ROI
95%

Energy
-10%

Operations
Higher quality
Lowe waste

12 months
Payback Period
Maintenance
Avoid breakdowns

Sustainability
Reduce emissions

Energy
Consumption data continuously collected from:
Inverter Drives
Process Control

Operations
Capture key operating data directly from process control systems:
Start/Stop
Speed (items/minute)
Product SKU
Short-Stops
Faults/Operating Modes

Maintenance
Monitor leading indicators of failure:
Current & Torque: Drive & Gearbox loading
Vibration: Lubrication failure, bearing wear and asset movement & stability
Lubricant: Oil condition & contamination
Energy
A standard 7.5kW motor running 20 hours/day for 5 days will consume around 38,000 kWhr/annum, costing around£12,000 worth of electricity (June 2022 prices).
Optimising production usage can reduce consumption by 10%reducing electricity cost by £1,200/annum per motor.
High-Speed fillers typically have three drive or pump motors, so savings could be around £3,500
Operations
Avoid scrapped batches of product due to a failure often costing up to £2,500 or more.
Maintenance
Where failures go undetected, damage to the main filler ring bearing can result in costly repairs:
Replacement main ring bearing cost: £40,000 each
Repair labour costs range from £20,000 to £60,000.
Total potential loss from one failure event: £60,000
Indicative Costs & Payback
95% ROI Payback within Twelve months.
Year 1 cost - £6,300
Annual Monitoring Cost - £1,800*
Hardware costs - £2,000
Commissioning - £2,500
* This represents the filter's share of the monthly ongoing service cost of £995, which includes 100 parameters.
Hardware
Required hardware will depend on source of consumption data and variables monitored:
Process control data available via PLC connections
Vibration sensors—minimum of two recommended
Commissioning
Our specialists configure the system and run end-to-end testing prior to go-live.
Monitoring Cost
Share of Annual service fee, based on monitoring 13 parameters for this asset type.
Actual implementation may use more or fewer parameters than this example, depending on requirements.