Refrigeration Compressors.
Most industrial refrigeration compressors are large, mechanical units that form the heart of industrial cooling and heating. They draw refrigerant from the evaporator at a relatively low pressure, compress it and then discharge it to a condenser where it is cooled.
The refrigerant then moves to the expansion valve and the evaporator – where it absorbs heat as it changes physical state - before being compressed again.
There are different types of compression mechanisms that are typically used in factory environments: reciprocating (piston), rotary (vane) and screw compressors (three different types).
The refrigeration compressors typically cool a glycol-water mixture or brine contained within a closed thermal exchange system, which is then used as a secondary coolant and pumped as required to chill or freeze environments or equipment, enabling producers to
lower the temperature of a product dramatically over a
short period of time.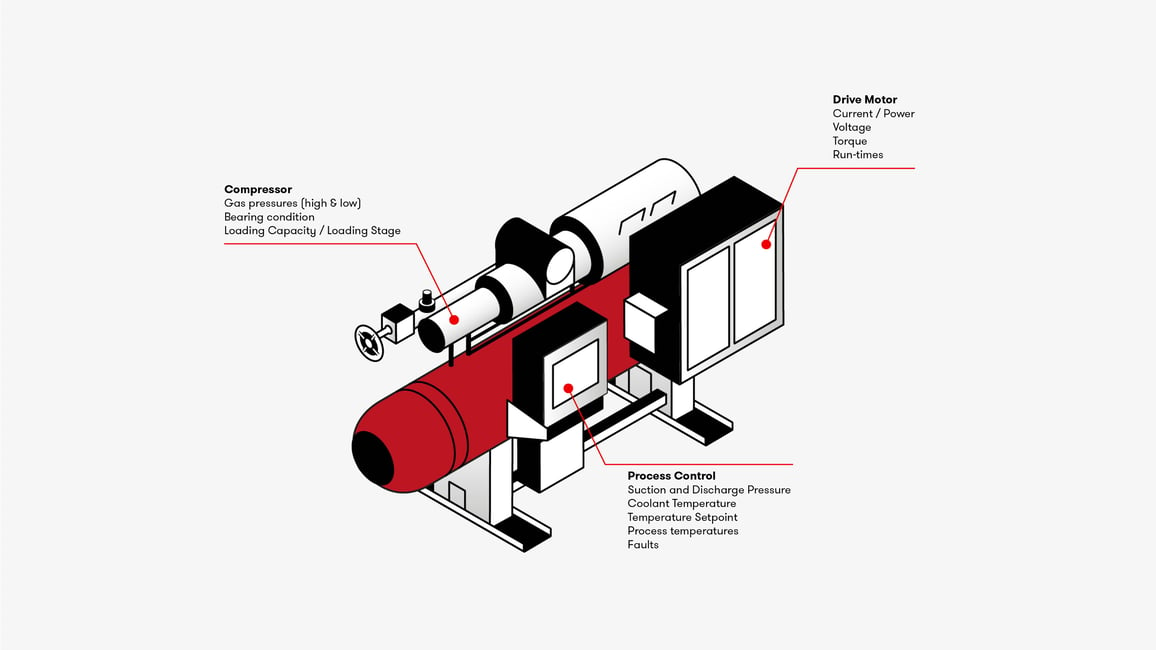 ROI
70%

Energy
-14%

Operations
Higher Quality
Lower Waste

7 months
Payback Period
Maintenance
Avoid breakdowns

Sustainability
Reduce emissions

Energy
Consumption data continuously collected from:
Inverter/VSD Drives
Electricity Meters at asset or line level

Operations
Capture key operating data directly from process control systems:
Chiller/Freezer Temperatures
Starts/Stops
Door openings

Maintenance
Monitor leading indicators of failure:
Current & Torque: Drive & compressor loadings
Vibration: Drives & Compressor element lubrication status, bearing wear and asset movement & stability
Operating modes
Energy
A 45kw Screw Air Compressor running for 12hrs per day @ 50p/kWh, will cost £98,550 per annum to run (@ June 2022 prices). A 10% reduction in consumption due to optimisation will save nearly £10,000 every year.
Operations
Continuous monitoring of the whole refrigeration system enables more efficient operation & optimisation of the whole cooling cycle.
Maintenance
Reduce the risk of unplanned failure, avoiding secondary damage and reducing MRO spend
Vibration data can highlight over or under lubrication of key components
Protect mechanical assets such as compressors using multiple vibration bands, combined with 'smart' early-warning alerts.
Indicative Costs & Payback
115% ROI Payback within six months.
Year 1 cost - £4,600
Annual Monitoring Cost - £1,600*
Hardware costs - £1,000
Commissioning - £2,000
* This represents the compressor's share of the monthly ongoing service cost of £995, which includes 100 parameters
Hardware
Required hardware will depend on source of consumption data and variables monitored:
Energy meter—if no process control data available
Vibration sensors
Commissioning
Our specialists configure the system and run end-to-end testing prior to go-live.
Monitoring Cost
Share of Annual service fee, based on monitoring 13 parameters for this asset type.
Actual implementation may use more or fewer parameters than this example, depending on requirements.