Pack Conveyors offer full automation options for moving products through each stage of the production process.
The products can be packaged in either their primary container or their secondary distribution packaging and automation minimizes product handling, limiting the risk of damage and handling errors. Pack Conveyors are extensively used in consumer product manufacturing, from bottling plants to frozen food.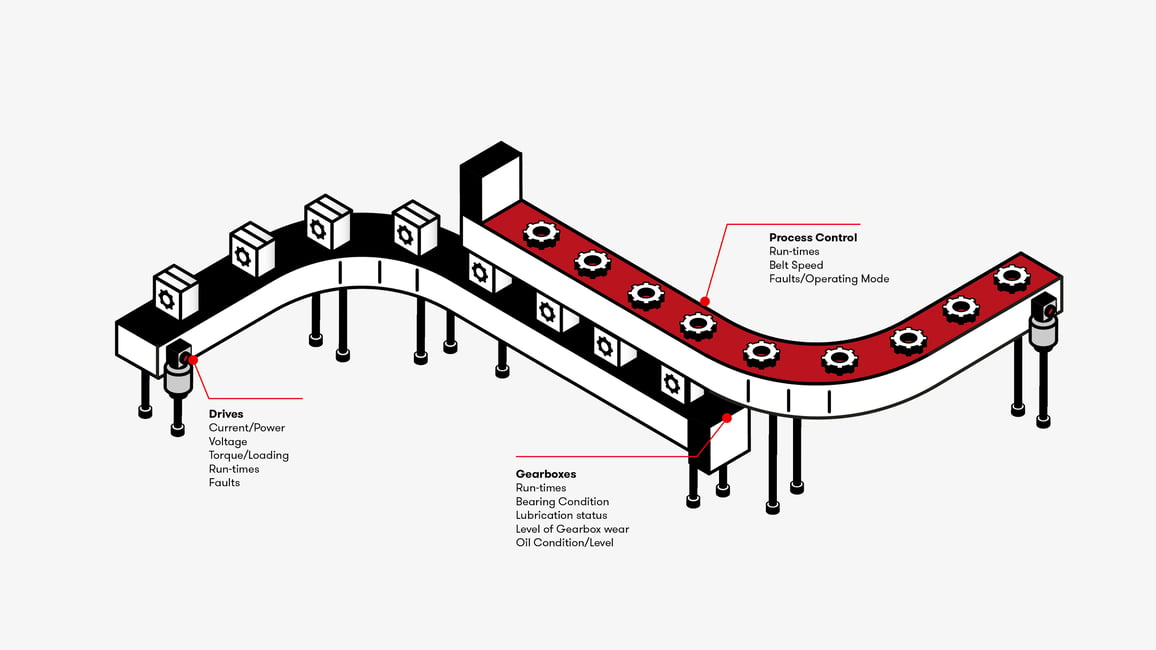 300%
ROI

Energy
-10%

Operations
Higher Quality
Lower Waste

3 months
Payback Period
Maintenance
Avoid breakdowns

Sustainability
Reduce emissions

Energy
Consumption data continuously collected from:
Conveyor Drives
Process control

Operations
Capture key operating data directly from process control systems:
Run-Times
Line speed
Acceleration rates

Maintenance
Monitor leading indicators of failure:
Current & Torque:

Drive & Gearbox loading
Belt condition

Vibration:

Lubrication failure
Bearing wear
Gearbox/drive movement & stability
Energy
Energy: £ 2.2kW motor, (19,272 kWhr/annum), Saving 10% of one motor @ 0.29p/kW = £558.88 per annum. Assuming a bank of 10 motors in a group = £5,500 annual saving.
Operations
Downstream consequence for process line, loss of batch production, or interruption in service delivery—a Bakery might lose £2,000 worth of product or production
Maintenance
Average MTTR of 4-6hr, downtime cost @ £1,000/hour = £4,000.
Replacement motor unit: £1,000.
Total potential loss: £6,000 from one failure event.
Indicative Costs & Payback
300% ROI Payback within three months.
Year 1 cost - £3,300
Annual Monitoring Cost - £1,200*
Hardware costs - £1,100
Commissioning - £1,000
* This represents the pack conveyor's share of the annual monitoring fee. This assumes the conveyor assembly has 10 motors and a single gearbox.
Hardware
Required hardware will depend on source of consumption data and variables monitored:
Energy meter—if no process control data available
Vibration sensors—optional extra
Commissioning
Our specialists configure the system and run end-to-end testing prior to go-live.
Monitoring Cost
Share of Annual service fee, based on monitoring 14 parameters for this asset type.
Actual implementation may use more or fewer parameters than this example, depending on requirements.