Find out how this RS Industria module could help to make significant operating cost savings for industries utilising mixers and homogenisers.
Industrial homogenisers and mixers are used across a range of different sectors from bakeries through to the preparation of lubricants. They can be designed to mix a range of products across all three phases and can be both batch and inline.
High speed batch mixers are used in a range of different applications such as bakeries and in the production of potato snack, crackers, hard biscuits, rotary, wire cut and pet food biscuit dough with mixing capacities up to several tonnes in capacity. They can be either vertical or horizontal shaft arrangements and are fitted with a variety of systems to handle the feedstock and the finished mix.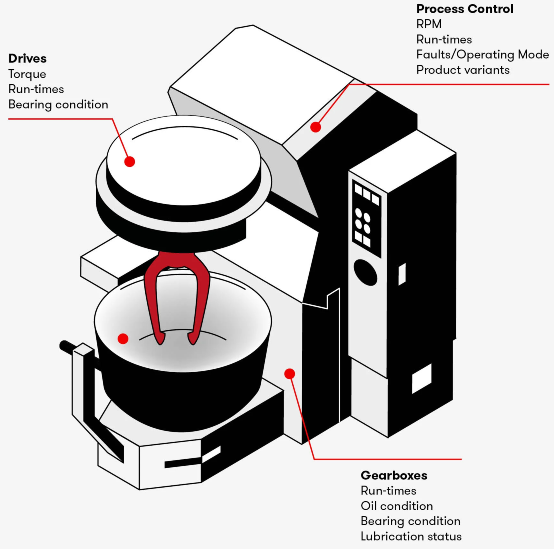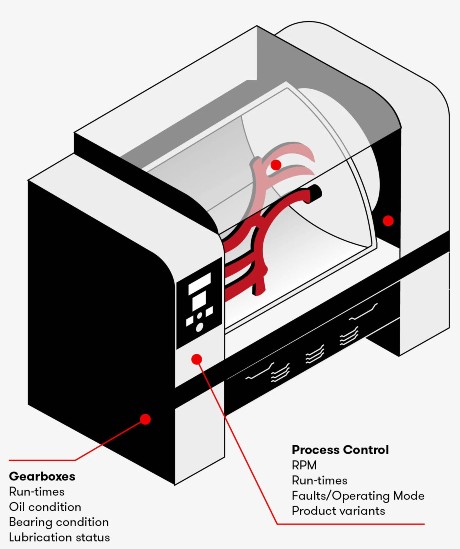 600%
ROI

Energy
-14%

Operations
Higher quality, lower waste

6 months
Payback Period
Maintenance
Avoid breakdowns

Sustainability
Reduce emissions

Energy
Consumption data continuously collected from:
Inverter Drives
Electricity Meters at asset or line level

Operations
Capture key operating data directly from process control systems:
Running speeds
Short-stops
Operating modes

Maintenance
Monitor leading indicators of failure:
Current & Torque: Drive & Gearbox loading
Vibration: Lubrication failure, bearing wear and asset movement & stability
Energy
A 300 kW mixer will consume around £200,000 worth of electricity (June 2022 prices).
Mechanical issues with motors can reduce efficiency of the motor by 10%, increasing electricity cost by £20,000/annum
Operations
Understand causes of quality issues and avoid scrapped batches of product, often costing up to £3,000 or more.
Maintenance
Preventing a catastrophic breakdown will avoid spares spend and production downtime. A typical breakdown would be 12 hours lost time at £1,000 per hour, resulting in a £12,000 cost.
Indicative Costs & Payback
600% ROI Payback within four months.
Year 1 cost - £7,000
Annual Monitoring Cost - £1200*
Hardware costs - £4,000
Commissioning - £2,000
* This represents the mixer's share of the annual monitoring fee.
Hardware
Required hardware will depend on source of consumption data and variables monitored:
Energy meter—if no process control data available
Vibration sensors
Commissioning
Our specialists configure the system and run end-to-end testing prior to go-live.
Monitoring Cost
Share of Annual service fee, based on monitoring 11 parameters for this asset type.
Actual implementation may use more or fewer parameters than this example, depending on requirements.