Fire Tube Steam Boilers are the most common technique for the production of saturated steam, high pressure hot water or superheated steam in industrial settings. Steam is generated by heating water in a pressurised drum by means of hot gases, which are produced from the combustion of liquid or gaseous fuels circulating through submerged tubes.
The large volume of pressurised stored water is used to resolve the standard potential variables that affect all boiler type systems, including variations in the feed water, fuel, combustion quality, temperatures and, importantly, steam load variation.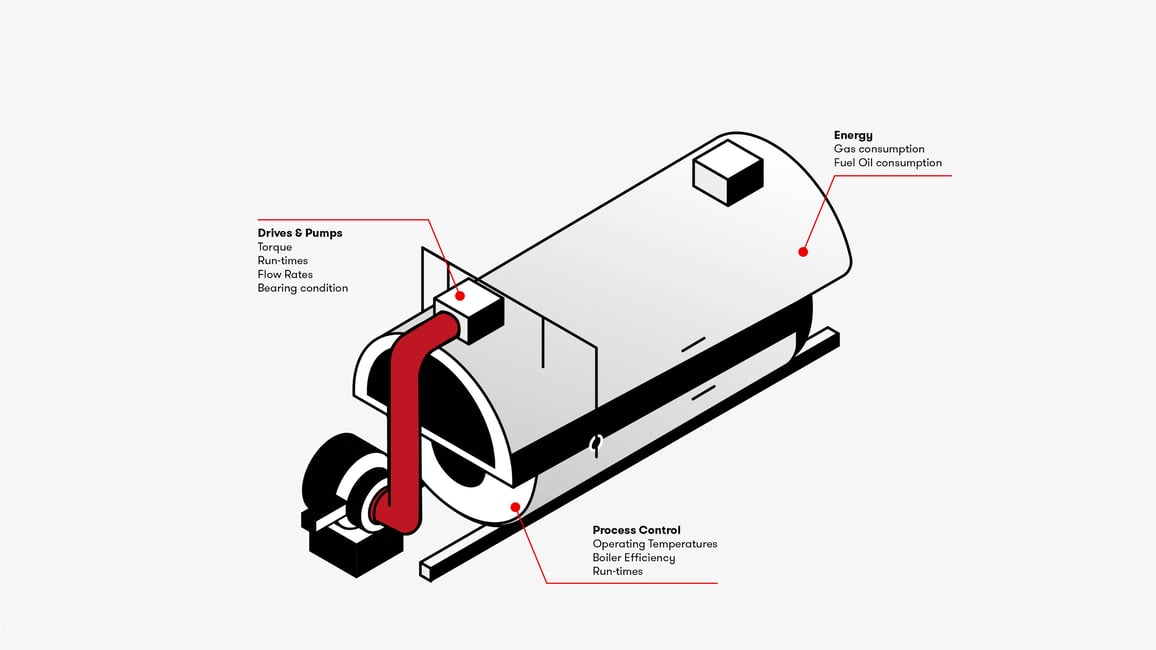 ROI
83%

Energy
-10%

Operations
Better Duty &
Standby balancing

8 months
Payback Period
Maintenance
Avoid breakdowns

Sustainability
Reduce emissions

Energy
Consumption data continuously collected from:
Gas or Fuel Oil meters
Electricity meters on pumps & fans

Operations
Capture key operating data directly from process control systems:
Operating temperatures
Pump Flow rates
Run-times
Emissions quality

Maintenance
Monitor leading indicators of failure:
Current & Torque: Drive and pumps loading
Vibration: Lubrication failure, bearing wear and asset stability
Energy
A 10 tonne/hour boiler can easily consume in excess of £500,000 of gas per year at (May 2022 prices).
Mechanical & control issues, combined can easily reduce efficiency by 5%, increasing energy cost by £25,000 per annum
Operations
Balancing load between boilers to ensure the most efficient unit is running at any point in time could deliver a further 5% reduction in energy consumption, or an additional saving of £25,000 per annum.
Maintenance
A typical failure on the fans or feedwater pump could take 6-8 hours to repair.
Add a further 4 hours to bring the steam back to temperature, leading to a total site shutdown of 12 hours, costed at £4,000/ hour. Total potential saving £48,000
Add the consequential cost of material write-off for any product damaged when in process during boiler failure.
Indicative Costs & Payback
83% ROI Payback within eight months.
Year 1 cost - £23,800
Annual Monitoring Cost - £1,800*
Hardware costs - £20,000
Commissioning - £2,000
* This represents the boiler's share of the annual monitoring fee.
Hardware
Required hardware will depend on type of heating, data collected and variables monitored:
Energy/Gas/Fuel Oil meters
Process control data connections
Vibration sensors—monitoring key drives, gearboxes and fans
Commissioning
Our specialists configure the system and run end-to-end testing prior to go-live.
Monitoring Cost
Annual service fee, based on the total number of parameters measured on a specific site. The values used in this illustration are based on monitoring 14 parameters for this asset type.
Actual implementation may use more or fewer parameters than this example, depending on requirements.