DAF — Dissolved Air Flotation
Dissolved Air Flotation (DAF) is a water treatment process that clarifies wastewaters (or other waters) by the removal of suspended matter such as oil or solids.
The removal is achieved by dissolving air in the water or wastewater under pressure and then releasing the air at atmospheric pressure in a flotation tank basin.
The released air forms tiny bubbles which adhere to the suspended matter causing the suspended matter to float to the surface of the water where this layer of sludge is removed by a skimming device. Flocculants and coagulants are often added to improve the performance of the unit.
Dissolved Air Flotation performance depends on the air to solids ratio, and this will vary with different types of suspension as the flotation process is dependent on the surface area of the materials.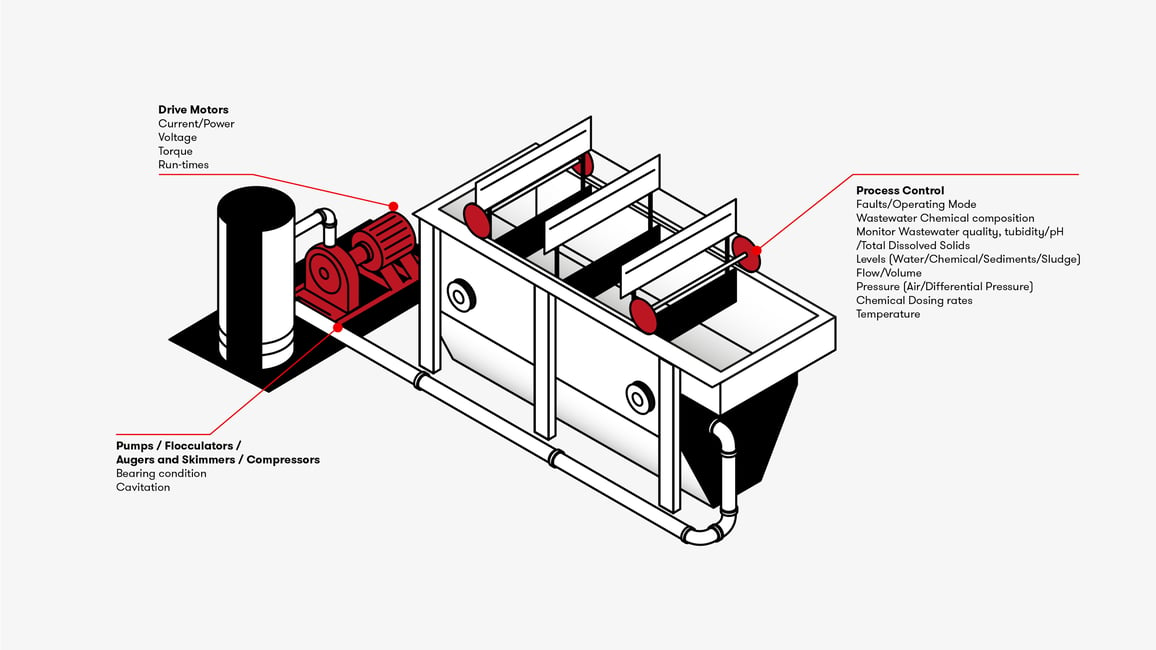 Energy

Operations
Higher Quality
Lower Waste
Maintenance
Avoid breakdowns

Sustainability
Reduce emissions

Energy
Consumption data continuously collected from:
Drives - Scraper, Pumps & Compressors
Process control

Operations
Capture key operating data directly from process control systems:
Pumps: Flow rates
Compressors: Pressures
Water Quality: pH, Turbidity, Dissolved Oxygen (DO) & Total Suspended Solids (TSS)

Maintenance
Monitor leading indicators of failure:
Current & Torque: Drive & pump loading
Vibration: Cavitation, lubrication failure, bearing wear and asset movement & stability
Chemical Concentration: reduce chemical corrosion through better dilution control
Energy
Quantify the energy costs of:
Pumps
Compressors
Flocculators and augers
Operations
Optimise chemical usage for coagulants and other agents
Maintenance
Control chemical compositions to reduce corrosion