Cooling Towers & Evaporative Condensers.
Cooling towers and evaporative condensers are used to remove excess heat from a cooling system when the heat cannot be utilised for other purposes, with the excess heat removed by evaporating water.
Often "out of sight, out of mind" in remote areas of the site or on the roof, they are critical process assets where failures can have significant impact on energy consumption, site operations or control of L8. Whilst relatively simple, the fans and motors operate in a wet environment exposed to the weather, and traditional condition monitoring techniques are unsuitable.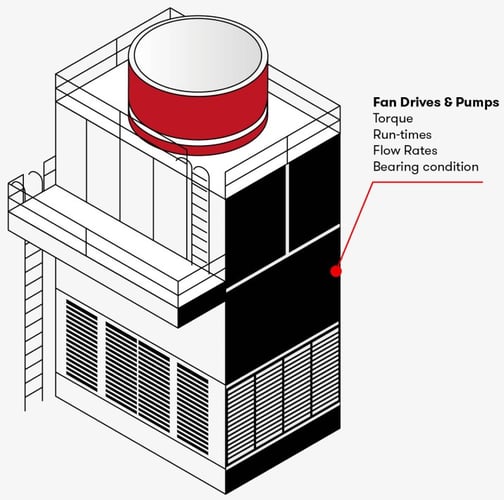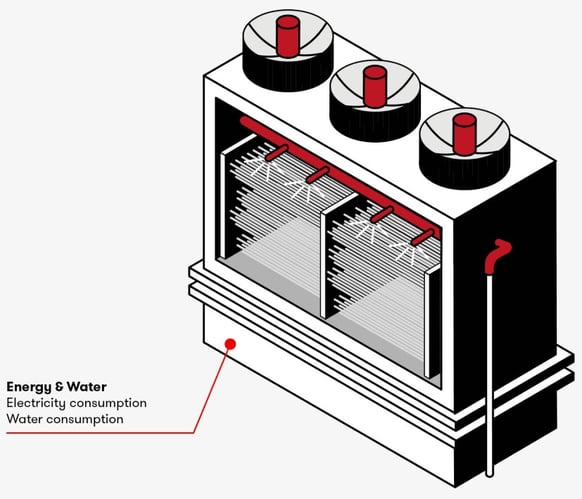 ROI
600%

Energy
-14%

Operations
Higher Quality
Lower Waste

6 months
Payback Period
Maintenance
Avoid breakdowns

Sustainability
Reduce emissions

Energy
Consumption data continuously collected from:
Inverter Drives
Electricity Meters at asset or line level

Operations
Capture key operating data directly from process control systems:
Running speeds
Short-stops
Operating modes

Maintenance
Monitor leading indicators of failure:
Current & Torque: Drive and Gearbox loading
Vibration: Lubrication failure, bearing wear and asset movement & stability
Energy
A Degradation in the heat transfer efficiency of the cooling tower will directly impact energy consumption of the heat source. Due to the wide range of potential loads on a cooling tower, you cannot quote a typical saving.
Operations
Monitoring chemical use can identify overdosing, reducing the cost of biocides.
Maintenance
Due to the wide variation of cooling tower and evaporative condenser types and deployments, indicative estimates of maintenance cost savings are difficult to create