Bakery tunnel ovens are used in the production of a wide range of baked goods, often combined with an extruder or depositor to present product to the oven. They can transfer heat through either convection, radiation or a combination of both and can be heated through either electricity or gas. They use a range of different conveyor types: grids, mesh, steel band and stones.
Whilst modern ovens have a fully integrated control system, with data on settings, maintenance and energy taken back to a common HMI, many older ovens do not have easy access to this data and, even with modern ovens, the data is held on the HMI and not aggregated with other sources of data from the line.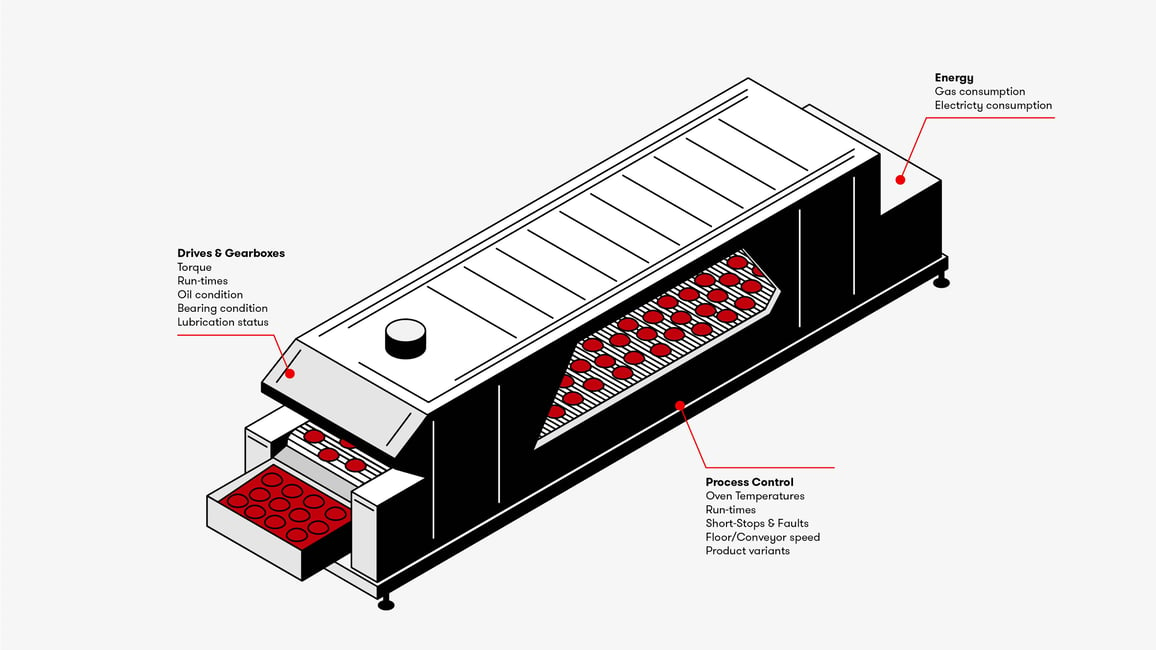 63%
ROI

Energy
10%

Operations
Higher Quality
Lower Waste

6 months
Payback Period
Maintenance
Avoid breakdowns

Sustainability
Reduce emissions

Energy
Consumption data continuously collected from:
Inverter Drives
Electricity Meters at asset or line level
Gas or Fuel Oil meters (on steam-heated processes)

Operations
Capture key operating data directly from process control systems:
Running speeds
Short-stops & Fault codes
Temperatures

Maintenance
Monitor leading indicators of failure:
Current & Torque: Conveyor Drive & Gearbox loading
Ultrasound: Conveyor drum bearings
Vibration: Gearboxes & Fans - Lubrication status, bearing wear and asset stability
Oil Condition: Gearboxes
Energy
1 tonne/hour oven will consume at least £400,000 of energy per year.
Mechanical & control issues, combined with insulation breakdown, can easily reduce efficiency by 10%, increasing energy
cost by £40,000 per annum
Operations
Understand causes of quality issues and avoid scrapped batches of product, often costing up to £3,000 or more.
Maintenance
Preventing a catastrophic breakdown will avoid spares spend and production downtime.
A typical breakdown would be 48 hours lost time as the oven cools, the repair is executed, and the oven brought back to temperature. At an operating and opportunity cost of £1,000 per hour, such a breakdown results in a £48,000 loss.
Indicative Costs & Payback
83% ROI Payback within six months.
Year 1 cost - £21,800
Annual Monitoring Cost - £1,800*
Hardware costs - £18,000
Commissioning - £2,000
Hardware
Required hardware will depend on source of consumption data and variables monitored:
Energy/Gas/Fuel Oil meters
Process control data connections
Vibration sensors—monitoring key drives, gearboxes and fans
Commissioning
Our specialists configure the system and run end-to-end testing prior to go-live.
Monitoring Cost
Annual service fee, based on the total number of parameters measured on a specific site. The values used in this illustration are based on monitoring 14 parameters for this asset type.
Actual implementation may use more or fewer parameters than this example, depending on requirements.