Improving Yields
Manufacturers who struggle with poor production yield will inevitably find it harder to compete with other companies that can produce products more efficiently, to higher quality and lower cost. By optimising your production processes, you can improve your yield and reap the benefits of increased profitability and productivity.
0
Increase in units produced a year
What We Do
RS Industria empowers you to ensure that assets are consistently work at their optimum, improving the quality of their yield and preventing sudden, production-halting breakdowns. By delivering greater insight into asset performance and condition, including condition monitoring alerts, component operating issues and faults can be immediately highlighted - allowing your maintenance teams to rapidly intervene, before your production levels are impacted.
How We Do It
By unlocking your asset data, RS Industria helps you take back control, boost uptime, and bolster productivity in your manufacturing process. This is achieved by seamlessly integrating your assets with our cloud reporting and management platform, in accordance with your process requirements. As a result, all devices will have access to a single point of real-time asset operational information.
With the help of condition monitoring alerts, you can stop the costly faults that disturb your operations by informing your maintenance staff of both routine fixes and urgent problems. Additionally, you'll have access to cutting-edge digital tools that support continuous asset reliability improvement, as well as RS maintenance specialists and other specialised services.
Your Journey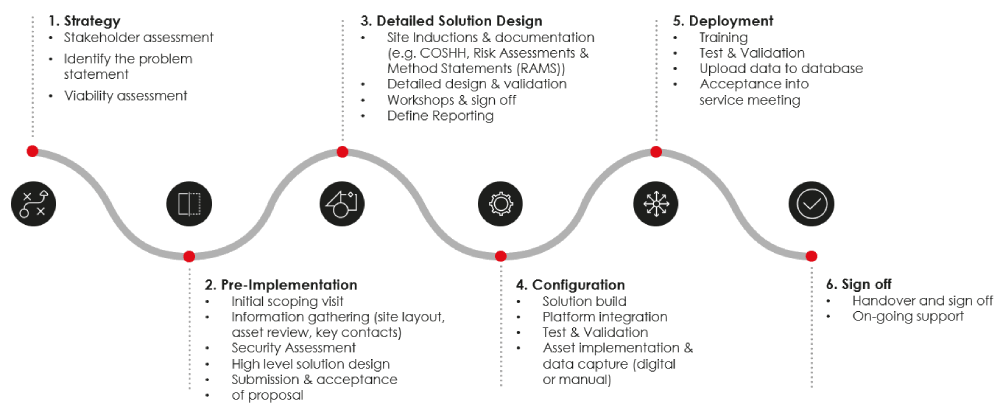 Your Success
With RS Industria, you'll experience ongoing value that delivers success - month after month, year after year. This includes extensive access to training, as well as ongoing support underpinned by RS expertise, which impels continual improvement.
Discover More
If you're looking to improve your manufacturing operations, RS Industria is here to help. Let us provide you with the visibility you need to take your operations to the next level.
Speak to a specialist