Reducing Waste
Unnecessary waste results in a high cost for manufacturers - including disposal fees and the price of replacing squandered materials. In turn, this shrinks your profits and make it harder to compete on price in your busy market. RS Industria is the key to cleaning up your processes and creating a more efficient, lucrative future.
0

%

Reduction in site energy consumption within just a few weeks
0
Tonnes of CO2 saved per year
What We Do
RS Industria delivers powerful reporting tools which enable analysis of production losses and other, process-specific metrics. All your asset, process and utilities data is in one place (across single or multiple sites), highlighting the root causes of production loss and exposing where resources are being wasted – giving you the power to intervene.
How We Do It
RS Industria unleashes the potential of your factory by liberating your dormant data – allowing you to gain control, improve uptime and increase efficiency. We do this by connecting your assets to our cloud reporting and management platform, quickly and easily, in line with your process requirements. This creates a single point of real-time asset operating information, on any device.
Condition monitoring alerts will notify your maintenance team of both routine fixes and urgent issues, allowing you to prevent the costly faults that disrupt your operations. Furthermore, you'll have access to innovative digital tools that help you drive continuous improvement in asset reliability, together with access to reliability experts and other specialist services.
Your Journey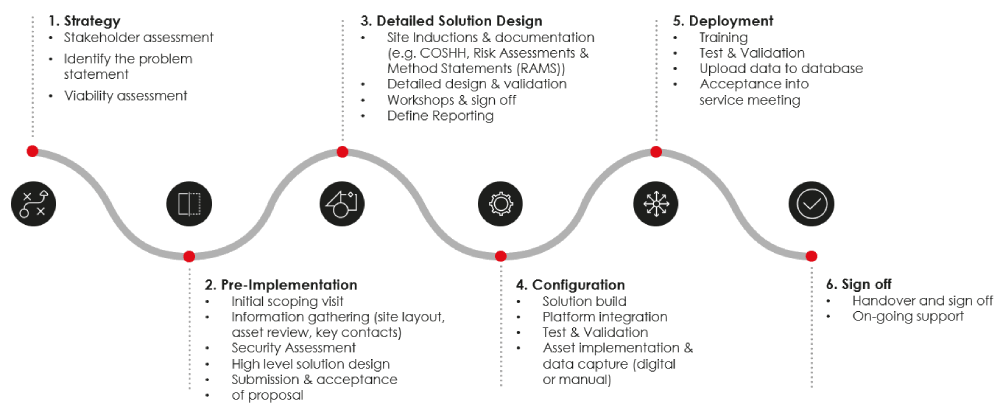 Your Success
With RS Industria, you'll experience ongoing value that delivers success - month after month, year after year. This includes extensive access to training, as well as ongoing support underpinned by RS expertise, which impels continual improvement.
Discover More
If you're looking to improve your manufacturing operations, RS Industria is here to help. Let us provide you with the visibility you need to take your operations to the next level.
Speak to a specialist