Centrifugal pumps are commonly used for pumping water, solvents, organics, oils, acids, bases and any low viscosity liquids in both industrial, agricultural and domestic applications.
It is the most common design of pump in use, accounting for over two thirds of pumping applications, and consists of a pump head containing the main working elements of a shaft and impeller, which rotate to produce flow and pressure when driven by a motor.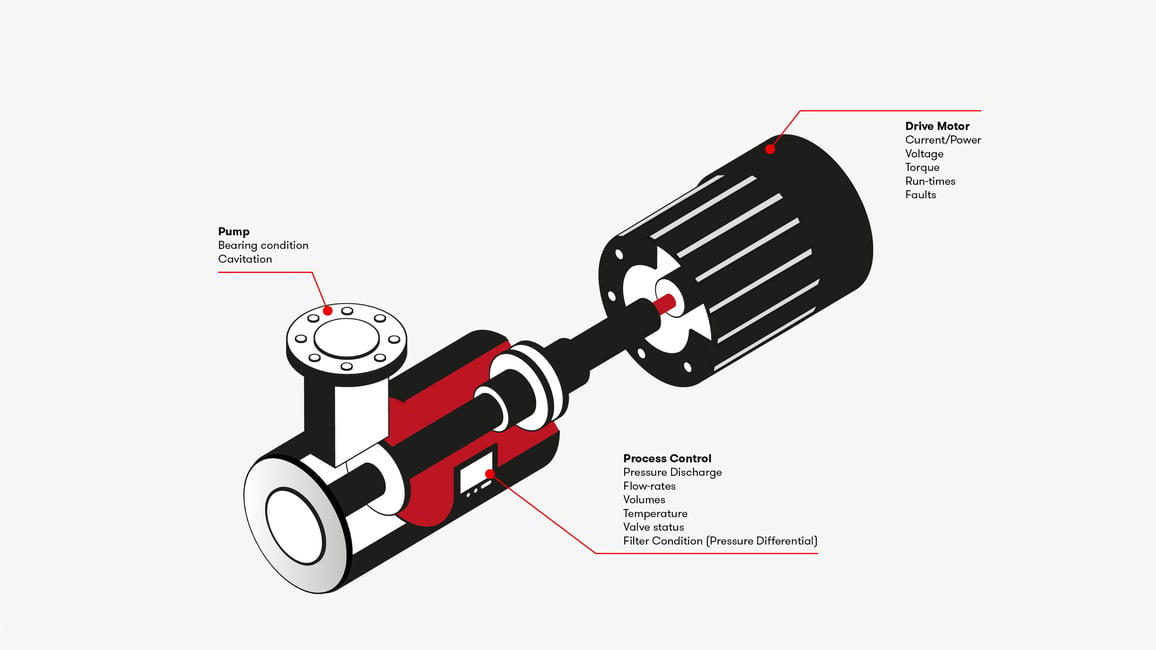 Energy
-10%

Operations
Higher quality, lower waste

7 months
Payback Period
Maintenance
Avoid breakdowns

Sustainability
Reduce emissions

Energy
Consumption data continuously collected from:
Inverter Drives
Process control

Operations
Capture key operating data directly from process control systems:
Run-Times
Flow rates
Pressures
Duty/Standby operating modes

Maintenance
Monitor leading indicators of failure:
Current & Torque: Drive & Gearbox loading
Vibration: Lubrication failure, bearing wear and asset movement & stability
Energy
A 22 kW mixer will consume around £48,000 worth of electricity (June 2022 prices).
Mechanical issues with drives & pumps can reduce efficiency of the motor by 10%, increasing electricity cost by £4,880/annum
Operations
Understand causes of quality issues and avoid scrapped batches of product, often costing up to £2,000 or more.
Maintenance
Typical MTTR of a pump is between 4-6 hours, at a downtime cost @ £3,000/hour.
Replacement pump unit cost: £3,000 each.
Total potential loss: £9,000 from one failure event
Indicative Costs & Payback
70% ROI Payback within seven months.
Year 1 cost - £2,800
Annual Monitoring Cost - £1600*
Hardware costs - £200
Commissioning - £1,000
* This represents the pump's share of the monthly ongoing service cost of £995, which includes 100 parameters.
Hardware
Required hardware will depend on source of consumption data and variables monitored:
Energy meter—if no process control data available
Vibration sensors - optional extra
Commissioning
Our specialists configure the system and run end-to-end testing prior to go-live.
Monitoring Cost
Share of Annual service fee, based on monitoring 14 parameters for this asset type.
Actual implementation may use more or fewer parameters than this example, depending on requirements.